Acoustic blinds — ACOUSTIC STRIPES
The innovative in-house development ACOUSTIC STRIPES by Création Baumann combines the possibilities of flexible room partitioning, control of room acoustics, privacy and glare protection in a new reinterpretation of the classic vertical blinds in the room or at the window.
Acoustic solution for flexible room zoning
Consisting of flexible and individually adjustable slats made of sound-absorbing fibres, ACOUSTIC STRIPES combines possibilities for spatial and acoustic zoning, as well as visual and glare protection. By flexibly and individually adjusting and turning ACOUSTIC STRIPES, the partitioning of the room can be designed to be both open and closed as desired, providing a quick solution for use-based, temporary room zoning.
A clean design for maximum spatial impact
The ACOUSTIC STRIPES convince with a clean design language and express not only Création Baumann's technological competence but also the company's aesthetic understanding of design.
Small effort, big effect
Open room structures are a challenge. With ACOUSTIC STRIPES you can improve the acoustics in a simple way. The stripes can be opened or closed quickly and continuously
Individual and tailor-made
Acoustic Stripes unfold their effect as zoning in the room and as glare protection in front of the window. Individually
configured, they adapt to any room situation. For big distances, the systems can be mounted after one another.
Short value chains and separation by type
The OEKO-TEX STANDARD 100 certified 100% PLF stripes are produced from the fibre to the cut stripes in Germany and made to measure in Switzerland
Plugged in, not glued
Thanks to the clever design the components can be sorted by material, easily separated and recycled.
SUSTAINABILITY AT CRÉATION BAUMANN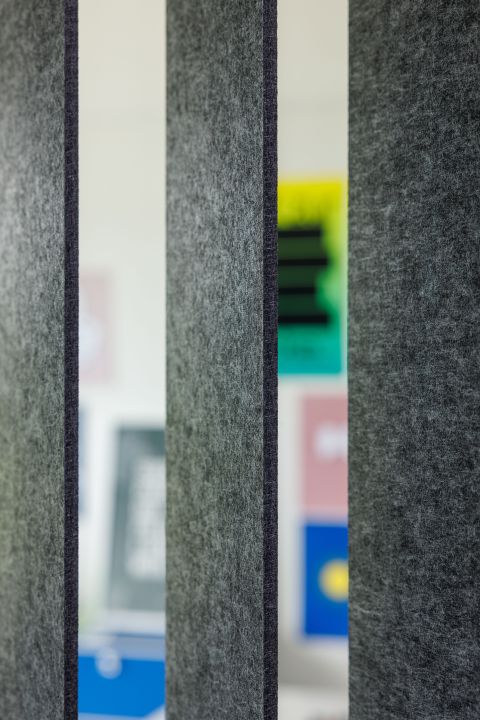 «Acoustic Stripes create spaces that adapt to your needs: Whether for focused work or creative exchange.»
Proven effectiveness
The material has been acoustically tested according to DIN ISO 354 / ISO 11654 and is flame retardant, Fire protection class EN 13501-1 / ASTME E-84 Class A. Depending on the application and setting, the Acoustic Stripes belong to absorber class A and their effect in the room and at the window, as confirmed by the values of the sound absorption measurement in the reverberation room.
COMPARISON CHART ACOOUSTIC STRIPES IN USE
Produkte aus diesem Bereich